Lennart
Elmström
(* 1936-03-26)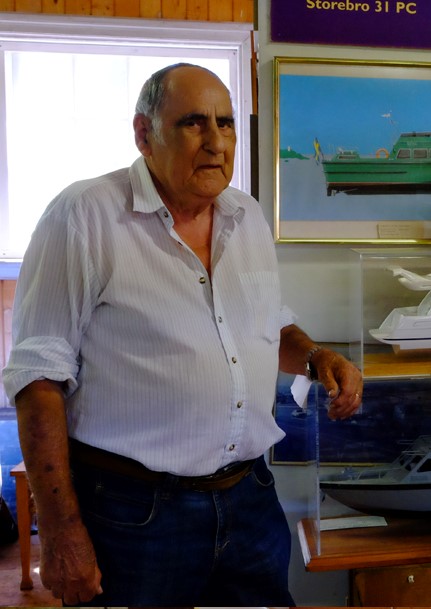 Lennart

Elmström
Lennart
Elmström
was a boat builder at AB Örnmaskiner (later Storebro Bruks AB) between 1958 and 1966.
Lennart
Elmström
was born and grew up in 1936 in a small fishing village on Sturkö in the Blekinge archipelago. His greatest interest at the time was the sea, fishing and boats. He completed a four-year apprenticeship as a cabinet maker, which he completed with the award of his journeyman's certificate.
After the apprenticeship he worked in a cabinetmaker's shop until the beginning of his 15-month military service.
This was followed by several months as a professional fisherman until the day he started working for AB Örnmaskiner.
On 10 March 1958 Lennart
Elmström
started working for AB Örnmaskiner at the age of 22 as the youngest boat builder. Due to his skills he was highly appreciated by
Tage Truedsson
and was used for prototype building. Among them were the
Royal Cruiser I
, the
Örnhavskryssaren
and
Golden Eagle
.
He was also one of the first employee representatives on the newly established works council and safety officer for the boat workshop.
In his spare time he played successfully with the works team in football and won the cup in 1960 and 1961.
He was a volunteer at Storebro Egenhemsförenig (as secretary) and as treasurer and head of the study group at ABF Storebro.
Today he lives in Karlskrona, Sweden