Technical Data
Year of production
1988-1992
L.o.a. (m)
12.01
Beam (m)
4.05
Draft (m)
1.20
Displacement (t)
11
Fuel (l)
2 x 800
Water (l)
600
Hull
GRP
Number of boats
56
The Storebro Royal Cruiser was the successor of the popular Storebro Royal Cruiser 40. Adjusted to the new design concept, she offered more volume below deck with almost identical dimensions.
Furthermore, the Aft-deck was significantly enlarged and the flybridge was optimized.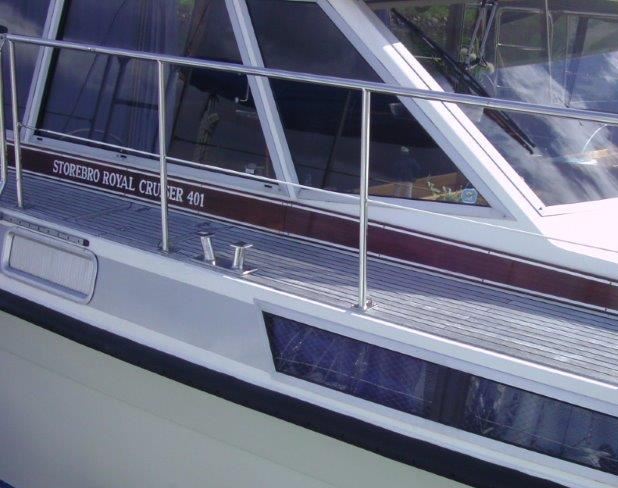 SRC 401 - wooden trims



For the Swedish market the ship was offered as SRC 400 and SRC 401. Because of the Swedish surveying regulations, the ship could be measured either as a sport boat with the pure body length of 11.99 m and 12.01 m in length as seagoing ship. For the second option an entry in the register and a corresponding patent was required. For this, the fuel could be bought tax-reduced.

Others
The first ship delivered (S/N 3249) still had the underwater hull of the Storebro Royal Cruiser 40, because the owner wanted to use the ship for the season and did not want to wait any longer. For the next ships the hull was changed before production. The hull number 3249 was then subsequently modified according to the production standard at the end of the season.

2016-10-11
Engines
Volvo Penta
TAMD71A
Volvo Penta
TAMD71B
Production
1986-1994
1989-2000
Fuel
Diesel
Diesel
Stroke
4
4
No. of cylinders
6
6
Bore (mm)
104.77
104.77
Stroke (mm)
130
130
Compression ratio
14:1
14:1
Displacement (l)
6.73
6.73
Engine output (kw/(HP))
263/(357)
160 - 279/
(218 - 380)
Rotations (1/min)
2500
2000-2800
Attention:
The values given in the motor diagrams below are measured values of individually equipped ships. The measured values can vary depending on the equipment as well as the wind and temperature conditions. These values do not indicate a binding property, but can only serve as indications.
Legend:

PDF-file available for download

PDF-file not available for download

PDF-file only available for registered owners

PDF-file only available for SRCC members
Brochures, flyer
Low
Hi
Storebro Royal Cruiser 400 Baltic - Brochure
1988
Storebro Royal Cruiser 400 Baltic - Brochure
1989
Storebro Royal Cruiser 400 Baltic - Brochure
1989
Pricelists
Low
Hi
Storebro Royal Cruiser 400 Baltic - Pricelist
1989
Storebro Royal Cruiser 400 - No. 79 - Pricelist
1991
Storebro Royal Cruiser - Pricelist
1993
Storebro Royal Cruiser - Pricelist
1994
Manuals
Low
Hi
SRC 400 Baltic - Owner´s Manual
1988

Complete brochures
Low
Hi
Storebro Royal Cruiser - Complete brochure
1990
Storebro - Technical documents
Low
Hi
SRC 400 - 24V/220V Wiring Diagram (VP TAMD71A)
1-5808-0003
1988
SRC 400 - Test Report Volvo Penta TAMD 71A
1989
Technical brochures - Manuals
Low
Hi
Twin Disc Marine Transmission MG-507/MG-507-1 Workshop Manual
Volvo Penta TAMD61/62/63/71/72 - Manual
Volvo Penta TAMD61/62/63/71/72 - Manual
Volvo Penta TAMD61/62/63/71/72 - Workshop Manual
Technical brochures
Low
Hi
Volvo Penta - Program 1989
Volvo Penta TAMD 71A - Productflyer
Volvo Penta TAMD 71A - Productflyer
Volvo Penta TAMD 71B - Productflyer
Reviews
Low
Hi
MBY - Storebro Royal Cruiser 400 - Review
1990