Remarks
The Storebro Royal Cruiser 420 Baltic was developed in parallel with the
SRC 380 Biscay
. She represented the successor to the
SRC 400 Baltic
, but had a more modern hull construction for higher speeds. Compared with the previous models, the seakeeping was again significantly improved and because of the greater length and the weight she drove more comfortable than the smaller 380 Biscay.
In 1993 the Biscay variant was introduced. It was based on the layout of the Baltic, but had no aft cabin. She was in fact the successor of the
SRC 40 Biscay
. In 1997 she was replaced by the
SRC 430 Biscay
.
In 1998, three more ships were produced with the designation "SRC 420 Baltic Mk II". These ships represent the production transition to the successor
SRC 430 Baltic
. Externally, these ships were recognisable by the extended bathing platform, the staircase and the modified covering of the aft railing. Other features such as the air inlet to the engine room remained unchanged.
Concept
Baltic:
The layout of the SRC 420 Baltic corresponded to the SRC 400 Baltic. The interior layout was identical and the structure resembles that of the SRC 400 astounding. Only the flying bridge has been completely redesigned. Side panels on the height of the deck covered the still clearly visible step to aft deck on the SRC 400 (Although these panels were already part of the first drafts of the SRC 400). Also, the air intake for the engine compartment on the first drawings corresponded to the SRC 400.
Biscay:
The SRC 420 Biscay was a relatively inexpensive development that was introduced in 1993. With new construction but largely the same layout large areas could be transferred. The modified pantry became standard for Baltic and Biscay series. However, the front cabin (originally intended as a guest cabin) had to be sold as owner's cabin. The bed of the owner's cabin was narrower than that of the SRC 380 Biscay. The hull of the SRC 380 was drawn in fact a bit more voluminous in the bow area.
The 420 Biscay's deck saloon is very spacious and elegant, separated from the cockpit by an all-glass stainless steel sliding door not previously used by Storebro. Unlike her predecessor, the
SRC 40 Biscay
, the available space was used for a larger deck saloon.
An original layout design from 1992 envisaged an optional fixed navigator's bench seat as in the
SRC 470
/
SRC 500
. However, to my knowledge, this option was never realised.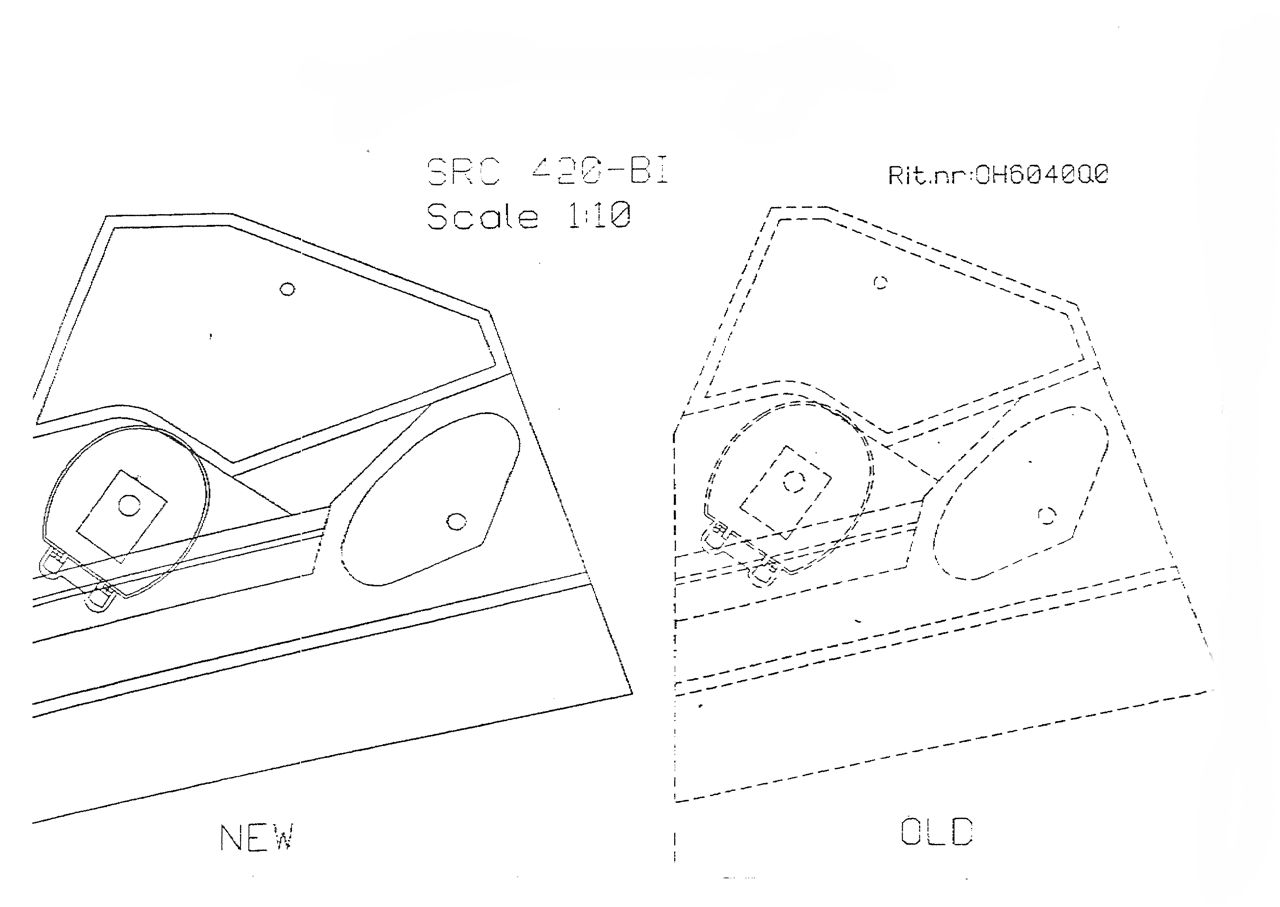 SRC 420 Biscay
modification of the toilet
Compared to the layout of the SRC 420 Baltic, the toilet area was even smaller after the original U-pantry had been changed to an L-pantry to give fellow passengers in the guest cabin direct access to the toilet. On special customer request the ship with the construction number 3629 was built in 1993 with an enlarged toilet area. The pantry was shortened by approx. 25cm. This variant was later on built for several ships.
With the SRC 420 Biscay several compromises were made, which were then partially removed with the
SRC 430 Biscay
.