Technical Data
Year of production
1970-1974
L.o.a. (m)
14.40
Beam (m)
4.35
Draft (m)
1.35
Height above waterline (m)
3.70 - w/o flybridge
Freeboard front (m)
2.00
Freeboard aft (m)
1.64
Displacement (t)
15.00
Fuel (l)
2 x 800
Water (l)
2 x 800
Hull
Mahogany
Number of boats
3
Designer
Winfried H. Wilke
The Royal Cruiser V was at the time of their presentation a true luxury yacht. The mighty hull was built entirely in mahogany. The ship already had a complete 230V power with generator and according to a 230 V cooker. The layout took consideration of the idea of the time that such a luxury boat is not to drive without a crew and for this a cabin was provided in the bow. Otherwise, the layout offered generous space for six persons.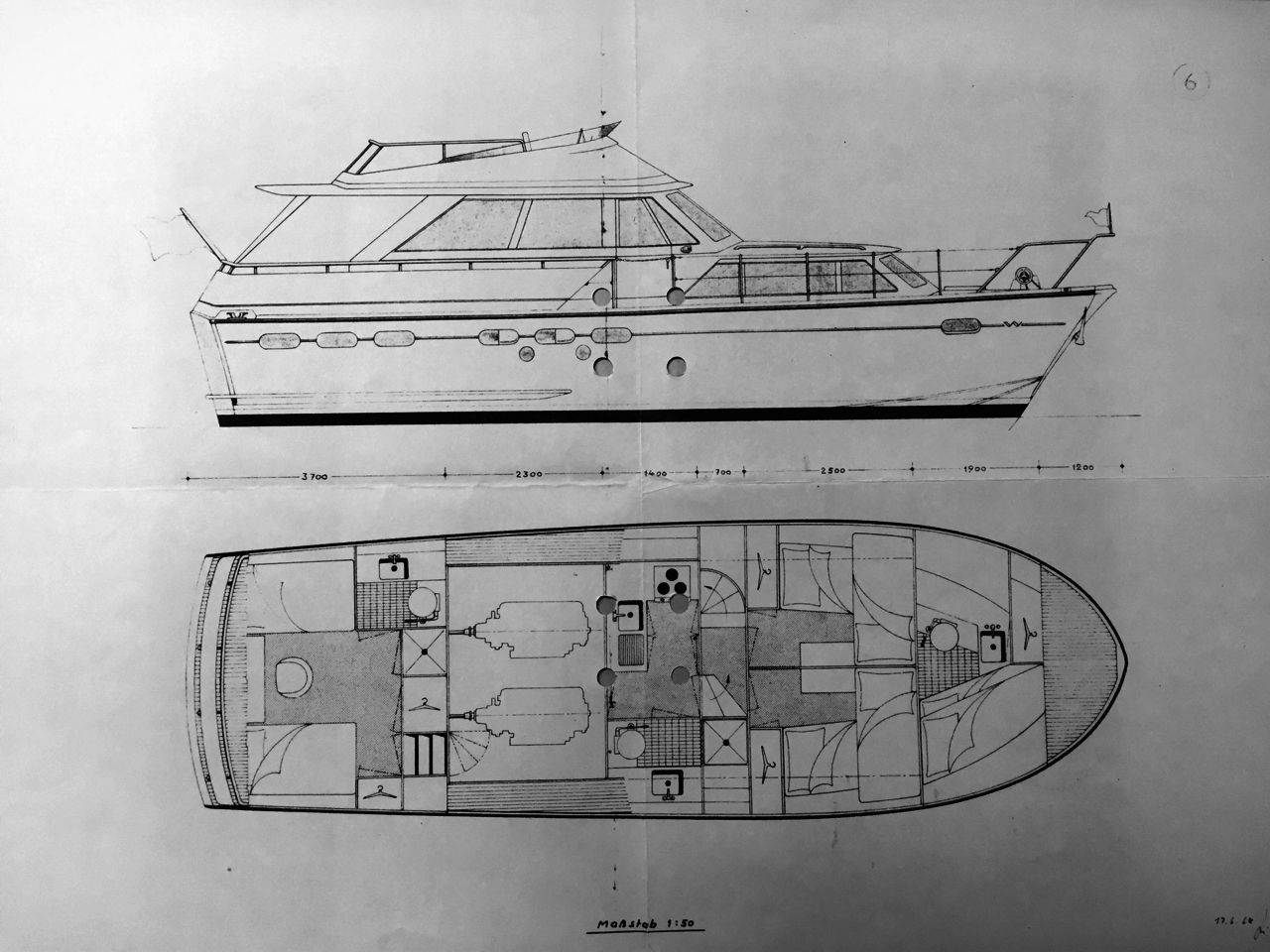 Draft of a 45 feet ship
by W.H. Wilke

A first design by Winfried Wilke in 1968 shows a 45-foot ship that already had the essential design features of the 47-foot version built later. However, the long flybridge that spanned the aft deck was not realized.

The first ship was delivered in 1970, the second slightly a year later 1971. While these two ships strongly resembled in layout and amenities, the layout and design of the woodwork of the third ship oriented strongly to the higher standards of the yard. Unlike the first two ships, the aft cabin of the third ship instead of two single beds was equipped with a centrally placed double bed. The equipment of the pantry clearly showed the evolution of wooden furniture development in Storebro-boats. Instead white lacquered surfaces, the kitchen surfaces of the third ship were made of varnished wood.

Besides the prototype, which was later provided with a flying bridge by his owner, the other two ships were provided with a flying bridge from shipyard. The style of the flybridge also indicates the development of designs.

The Royal Cruiser V was the first ship, which was built in the new shipyards in Västervik. The hull of the first ship was built yet in Storebro and then transported half finished in the winter on icy roads to Västervik.

The ship was originally presented as Royal Cruiser V. With the appearance of smaller Royal Cruiser 43 then the Roman nomenclature was changed to the length in feet because the name Royal Cruiser V and Royal Cruiser IV did not leave option that made sense.

The boats had the hull numbers 1621, 1812 and 2131.

2020-08-09
Engines
Detroit Diesel
8V53N
Volvo Penta
TMD70AB
Volvo Penta
TAMD70B
Production
1969-1970
1970-1975
Fuel
Diesel
Diesel
Diesel
Stroke
2
4
4
No. of cylinders
8
6
6
Bore (mm)
98.40
104.77
104.77
Stroke (mm)
114
130
130
Compression ratio
21:1
16:1
14,5:1
Displacement (l)
6.95
6.73
6.73
Engine output (kw/(HP))
208/(283)
115 - 147/
(157 - 200)
114 - 184/
(155 - 250)
Rotations (1/min)
2000-2500
1800-2500

Volvo-data was taken from the Volvo Penta engine-database
Changes
from
s/n
Year
Pic.
S/N
1621
S/N
1812
S/N
2131
Engine: Volvo Penta TMD 70
●
Upholstery: Cloth-covers and carpet in yellow
●
Exhaust pipes on the side of the ship
●
Aft cabin: Two single beds on port and starboard side
●
●
Engineroom ventilation: Two seperate bulleyes
●
●
Galley: body painted white with colored doors
●
●
Engine: Detroit Diesel V8-53N
●
Fybridge: Short flybridge cover
●

Changes
from
s/n
Year
Pic.
S/N
1621
S/N
1812
S/N
2131
Upholstery: Cloth-covers and carpet in blue
●
Exhaust pipes at the stern
●
●
Engine: Volvo Penta TAMD 70B
●
Flybridge: Longer flybridge with Radar arch
●
Upholstery: Leather-covers and carpet in brown
●
Aft cabin: Double bed in the middle of the aft cabin
●
Engineroom ventilation: Single air outlet
●
Galley: body in mahogany, satin finish
●
Legend:

PDF-file available for download

PDF-file not available for download

PDF-file only available for registered owners

PDF-file only available for SRCC members
Brochures, flyer
Low
Hi
Royal Cruiser V/47 - Brochure
1970
Pricelists
Low
Hi
Storebro Bruks AB - Pricelist
1972
Storebro Bruks AB - No. 43 - Pricelist
1973
Storebro Bruks AB - No. 46 - Pricelist
1974
Storebro Bruks AB - No. 47 - Pricelist
1975
Storebro Bruks AB - No. 48 - Pricelist
1975
Storebro Bruks AB - No. 49 - Pricelist
1976
Storebro Bruks AB - No. 50 - Pricelist
1976
Storebro Bruks AB - No. 51 - Pricelist
1977
Storebro Bruks AB - No. 53 - Pricelist
1978
Complete brochures
Low
Hi
Storebro Bruks AB - Complete brochure
1969
Storebro Bruks AB - Complete brochure
1969
Storebro Bruks AB - Complete brochure
1970

Technical brochures - Manuals
Low
Hi
Detroit Diesel Series 53 - Service Manual
Technical brochures
Low
Hi
Volvo Penta - Program 1970
Multimedia documents
Low
Hi
Storebro Royal Cruiser 47 hull model - Video
1969
Storebro Royal Cruiser 47 (S/N 1621) - Video
1970
Storebro Royal Cruiser 47 (S/N 2131) - Video
1974
Newspaper articles
Low
Hi
Yacht 04/1970 - Gleitstringer-was tun sie wirklich?
1970