Technical Data
Year of production
1957-1965
L.o.a. [m]
8.54
Beam [m]
2.22
Draft [m]
1.20
Displacement [t]
2.30
Ballast weight [t]
0.98
Fuel [l]
12
Water [l]
50
Hull
Mahogany
Main sail [m2]
19.60
Jib [m2]
8.40
Genoa [m2]
16.30
Spinnaker [m2]
31.00
Number of boats
ca. 200
Designer
Tord Sundén
The King's Cruiser is the first sailing boat built by Örnmaskiner. The model was built as a commission for G. Andersson or AB Telfa in Gothenburg, who also owned the name and plans. The ship was drawn by Tord Sundén.

Before the Örnmaskiner company started production of the King's Cruisers, they were also built by Harry Hallberg on Orust. Whether a ship was built by Hallberg or by Örnmaskiner can be identified by the direct production number (see "Miscellaneous").

AB Telfa sold the ships worldwide. Most of the ships were sold to the USA, but also to Italy.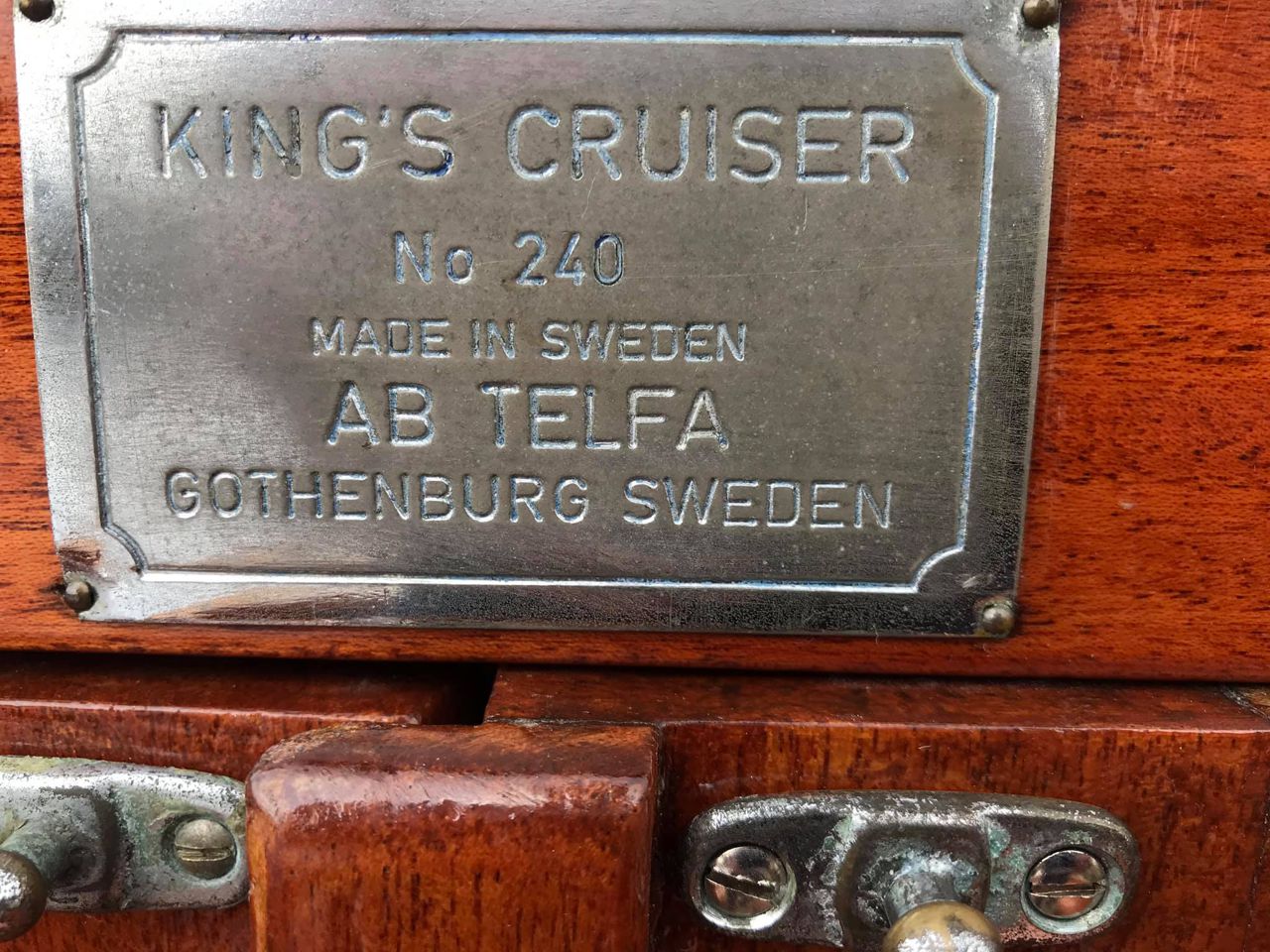 Serial number badge
of a King´s Cruiser
(here number 240,
Örmaskiner No. 162)

As the partner companies were planning a change to GRP hulls, which Ivar Gustafsson rejected, the cooperation was discontinued. The shipyard developed the Örnen series instead.

Miscellaneous
The King´s Cruisers received their own serial numbers from AB Telfa, which did not correspond to the serial numbers assigned by Örnmaskiner. However, in some cases the numbers of the ships can still be determined, as at times both numbers were noted in the delivery lists. The numbers assigned by the shipyard range from 1 to a maximum of 271. The numbers assigned by AB Telfa range from a minimum of 14 (lower is not documented) to a maximum of 337 (higher is not documented).

Like the Svanö/Bergö, the King´s Cruiser was delivered in many bright hull colours. These included the shades of green, blue, turquoise, red and cream white.

2022-05-02
Engines
Volvo Penta
F12
Volvo Penta
MD1
Production
1952-1958
1958-1970
Fuel
Petrol/Gasoline
Diesel
Stroke
2
4
No. of cylinders
1
1
Bore
[mm]
92.07
79.37
Stroke
[mm]
90
90
Compression ratio
5.2:1
18.0:1
Displacement
[l]
0.67
0.45
Torque
[Nm]
Engine output
[kw/(HP)]
4/(6)
4 - 5/
(5 - 7)
Rotations
[1/min]
1350
2000-2300
Weight
[kg]
130
As a registered user, depending on the type of boat, you have access to further diagrams regarding consumption, range and noise level.
As a registered user, you have access to further diagrams on hull colours, layout variants, type of wood used and production figures per year, depending on the type of boat.
Legend:

PDF-file available for download

PDF-file not available for download

PDF-file only available for registered users

PDF-file only available for registered owners

PDF-file only available for SRCC members
Brochures, flyer
Low
Hi
AB Telfa - Kingscruiser - Flyer
1957
AB Telfa - Kingscruiser - Brochure
1962

Technical brochures
Low
Hi
Volvo Penta - Program 1954
Volvo Penta - Program 1959
Volvo Penta - Program 1960
Volvo Penta - Program 1970
Volvo Penta MD1 - Productflyer