Technical Data
Year of production
2000-2002
L.o.a. (m)
18.90
Beam (m)
5.40
Draft (m)
1.45
Height above waterline (m)
5.90
Displacement (t)
30,2
Fuel (l)
3800
Water (l)
800
Hull
GRP
Number of boats
4
The Storebro Grand Series no. 1 was the first model of a new product line named "Grand Series". The boat was designed by Argentinian German Frers again and broke radically with the previous line style.
The interior was designed by the Swedish design studio Tilberg Design that otherwise styled the design of cruise ships. The color match of the resulting design was then applied to other ranges.

Modification

The original wind deflector for the flybridge proved to be insufficient and a classic acrylic glass was then added to all boats. This took some of the ships elegance.
The bezel of the side air intake for the engine room was replaced after the first ship for the other ships against a bezel of stainless steel pipes
As of the second ship, the upper edge of the coaming was covered by a teak strip.
Engines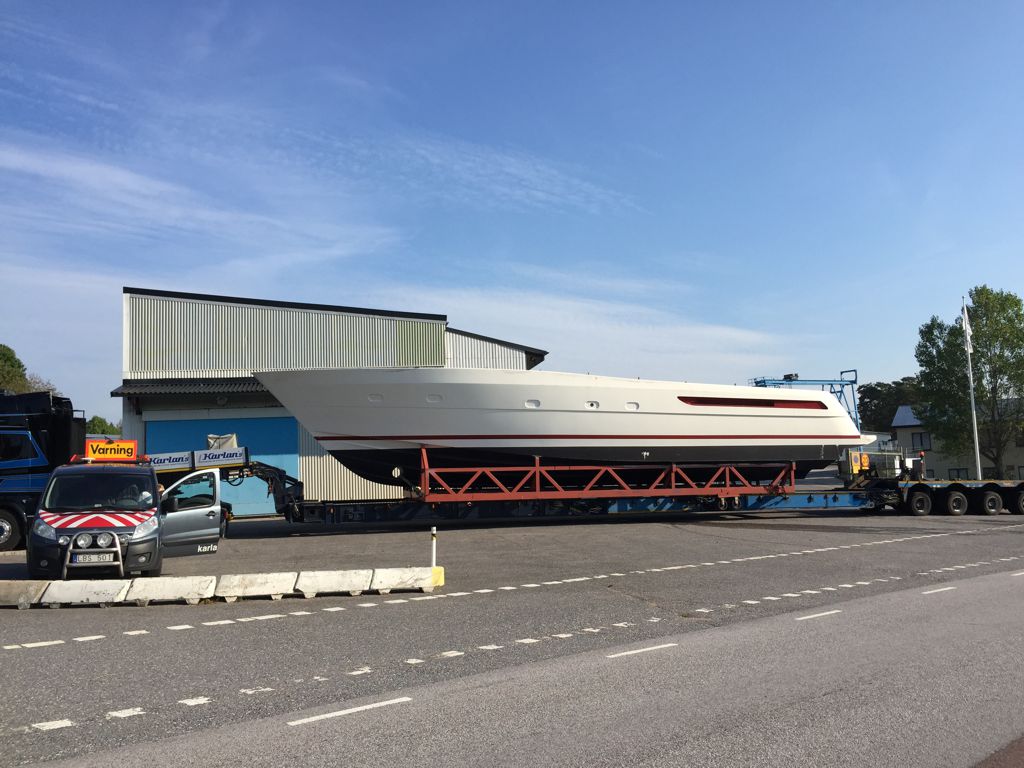 Hull of the 5. SGS No. 1 (4055)

The ship was offered with two optional propulsion technologies. The choice was between the standard with two Scania engines with 800 HP and shaft drive or alternatively with two MAN with 1050 HP and waterjets.

Finally, only four examples of this ship were built, one with jet drive (hull number 4052).
For potential buyers: There still exists a fifth hull and superstructure. There were also some funiture-elements for this ship, which were offered some time ago at Blocket. Nevertheless production of that boat was never started. Since the end of August 2016, the hull is back in the shipyard in Storebro.

2016-09-02
Engines
MAN
D2840 LE403
Scania
DI14 82M
Production
1999-2002
Fuel
Diesel
Diesel
Stroke
4
4
No. of cylinders
10
8
Bore (mm)
128.00
127.00
Stroke (mm)
412
140
Compression ratio
13,5:1
13,5:1
Displacement (l)
18.27
14.00
Engine output (kw/(HP))
772/(1.050)
588/(800)
Rotations (1/min)
2200
Legend:

PDF-file available for download

PDF-file not available for download

PDF-file only available for registered owners

PDF-file only available for SRCC members
Brochures, flyer
Low
Hi
Storebro Grand Series No. 1 - Brochure
2000
Storebro Grand Series No. 1 - Brochure
2000
Storebro Grand Series No. 1 - Brochure
2000
Storebro Grand Series No. 1 - Brochure
2000
Storebro Grand Series No. 1 - Brochure
2001
Manuals
Low
Hi
Storebro Grand Series No. 1 - Owner´s Manual
1999

Complete brochures
Low
Hi
Storebro Royal Cruiser - Complete brochure
1999
Storebro Royal Cruiser - Complete brochure
1999
Storebro Royal Cruiser - Complete brochure
2001
Storebro Royal Cruiser - Complete brochure
2002
Technical brochures - Manuals
Low
Hi
MAN 2840 LE 403 - Operation Manual
Scania DI14 82M - Operation Manual
Technical brochures
Low
Hi
CAPS (Computer Assisted Piloting System)
RR Kamewa FF 450S - Productflyer
Scania DI9/DI12/DI14 - Datasheet
Reviews
Low
Hi
Bootswelt.de - Storebro Grand Series No. 1 - Review
2001
MBY 6/01 - Storebro Grand Series No. 1 - Review
2001
Multimedia documents
Low
Hi
Storebro Grand Series No. 1