Serial number

s
Serial number

of a Solö Ruff (no. 17 from 1954) carved in wood
Continuous

serial number

carved in wood
General

For the first boats from Storebro

serial number

s were not intended, because an identification of individual boats was not necessary. Only with the more elaborately built boats did

serial number

s become essential to the production process. The boats were originally completely assembled and then dismantled again in parts for painting. Due to the higher production tolerances, each part was marked with the boat's

serial number

so that all parts could be reassembled after painting. Therefore, on older boats, every relevant part is marked with a

serial number

.

On the

Storebro Royal Cruiser IV/34

, for example, the

serial number

s can be found on the underside of the drawers in the galley. In total, over 30 different places with

serial number

s are known for this type.

Early years

Up to and including 1956, the

serial number

s were reassigned annually for each type of boat, starting with 1. The

serial number

consisted of the consecutive number and the two-digit year.

Serial number

s in order production

Some of the early Örnmaskiner/Storebro boats were made to order for other companies. Major customers were Electrolux in Stockholm and AB Telfa in Gothenburg. These sold the boats built under their own direction and with their own

serial number

plates. The

serial number

s used did not correspond to the production numbers from Storebro. In part, the customer

serial number

s were noted in the order books and can therefore be assigned today.
Boat type
Known

serial number

s
Customer
Kungskryssaren
5-337
AB Telfa, Göteborg
Vindö 1958
501-524
AB Telfa, Göteborg
Svanö
1001-1052
AB Telfa, Göteborg
Solö Ruff
1501-1547
AB Telfa, Göteborg
Vindö
2016-2023
AB Telfa, Göteborg
Storö I
3006-3007
AB Telfa, Göteborg
Roddbåt/Roddbåt R.F.
54001-54089
Electrolux, Stockholm
Consecutive numbering from 1957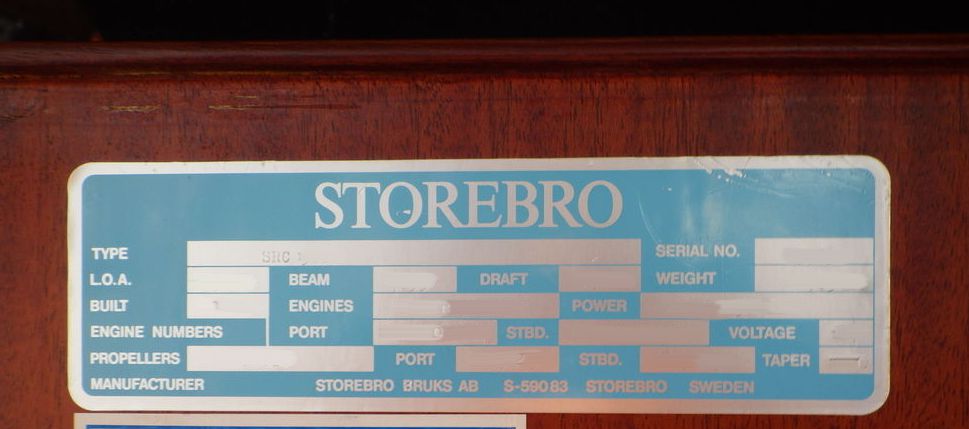 Serial number

plate - normally placed under the chart table
From 1957 until about 1997, consecutive
serial number
s were used across all model series.
On wooden hulls, the number was stamped on the stern about 10 cm above the keel. On GRP hulls it was laminated directly into the hull at the same place (e.g. on the SRC 380 between the shaft tunnels at the stern in the keel area). From about 1974 onwards, the
serial number
and the propulsion data were indicated on the sticker in the control panel.
From about 1986 onwards, several numbers were always reserved in a block for a particular type and produced as required. For example, a block of
serial number
s from 3500 to 3540 was reserved for the successful
SRC 340
. However,
serial number
s 3530 to 3539 were then no longer allocated due to the change of model.
Number assignment as of 1997
From about 1997 onwards, number ranges were reserved for individual model series (e.g. 3900 ff. for
J32
/
J34
, 4001-4010 for
SRC 515
, 4051-4055 for
GS 62
, 4100 ff.
SRC 475
, 4500 ff.
SRC 410
and 4600 ff.
SRC 435
).
The models
Nova 42
and
Nova 43
built at Storebro for Nimbus were given the
serial number
s 4200 ff. and 4300 ff. respectively. The Nova 42 is a special case. While the
serial number
is used internally with 42xx, the digits 00xx were used externally.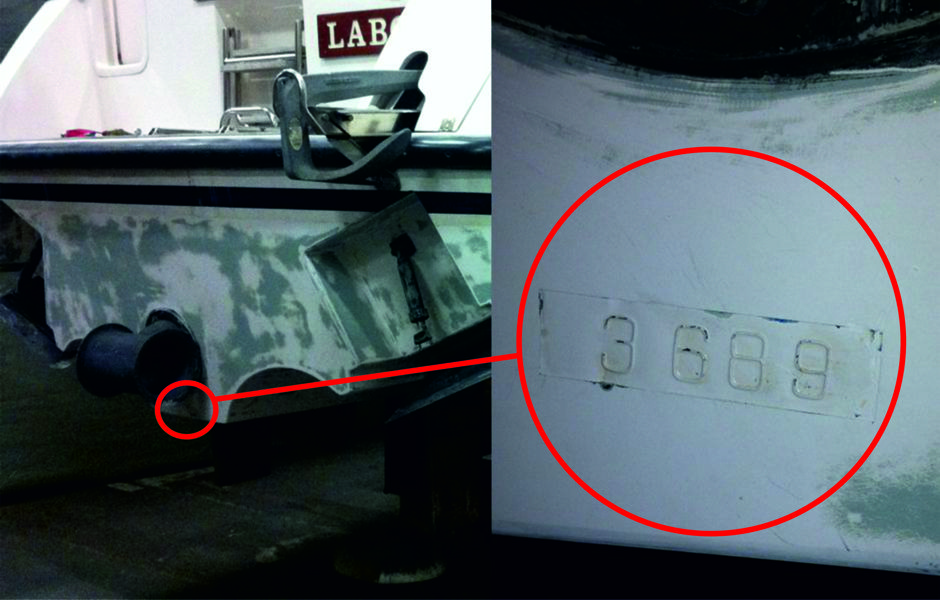 Serial number

on a GRP hull

Serial number

and HIN since 1998

Since 1998, boats must be marked with the so-called HIN (Hull Identification Number). This contains, among other things, the country of origin,

serial number

and year of construction. Details can be found in EN ISO 10087:2006.

Example of an SRC 410 with the HIN SE-SRCZ4537H607:
SE
Country of origin
SRC
Manufacturer code
Z4537

Serial number

and type of boat
H
Month of production (H=August)
6
Year of production (2006)
07
Model year (2007)
Type codes for various Storebro models or types built at Storebro:
Other
In the USA and Japan, a marking similar to the HIN has been mandantory for some time. For vessels sold there, the local authorities issued individual numbers.
Some ships modified at Storebro were given an individual HIN. SRC 355, for example, was subsequently given the HIN SE-SRCE37xxyyzz. An SRC 420 was given the HIN SE-SRCNxxxxyyzz, although the N had actually been assigned to the Paragon 25.
Attention!
There is often a mistake among boat owners that a higher serial number is equivalent to a later production date. This assumption is not generally correct.
Especially in the 70s and 80s, a great many boats were produced in parallel. When a customer bought a ship, it was checked which ship under construction met the customer's wishes with the least effort. In the process, a boat with a higher

serial number

that was in an early stage of construction could possibly be preferred to boats with a lower

serial number

in production and delivered earlier.
Due to the high time and cost involved, sometimes 10 to 20 hulls were later produced for a year in advance. According to the incoming orders, any existing hull was then taken over into production, regardless of the

serial number

.